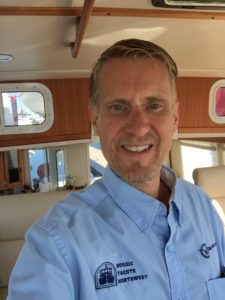 My passion is to help people get out and enjoy what I consider to be one of the best cruising grounds in the world.
If you would like me to help you find the trawler of your dreams, I'm ready to offer my experience and local knowledge. And if you are looking to sell I will get your boat placed in the best possible situation to make that happen.
I am also a yacht electrical consultant.  Over 10 years experience working full time on yacht electrical systems in Anacortes.  I am available to speak on a variety of yacht electrical topics to boating groups.  I can also review, diagram, and trouble shoot difficult yacht electrical systems, or design a completely new system for new construction, or re-wire jobs.
HISTORY
I have been coming up here to go boating since the 1980's.  The first trip I took in the San
Juans
was with my Dad on our 21′ Balboa Aquarius, with a 4 HP outboard and a compass.  We didn't even have a VHF or depth finder.  Since then I have been fortunate enough to take many charter trips in the Jan
Juans
, Gulf Islands, and Desolation Sound.
Finally, in 2005 I decided to leave growing Portland and live full time in
Anacortes
.  Like many people I had been dreaming of living on one of the islands but never could quite figure out how I would make a living out there.  Now as things have turned out I am very glad I settled on
Fadalgo
Island.
In 2005 I went to work for Pacific Mariner in
LaConner
as an electrician on the 85 line.  Then in the spring of 2006 I went out on my own doing business as
Rovang
Marine.  I had a great run at that, working mostly on larger trawlers in the marinas around
Anacortes
. During those years I honed my expertise as a marine electrician specializing in inverter installs and charging systems. I also studied and received my certification in marine corrosion.
In the fall of 2014 I decided to go into yacht brokering.  I still love the marine electrical work but now at age 50 it's a good idea to try and make more of my living in a why that does not require me to be scrunched up in tight places all day.
I now work brokering boats through Nordic Yachts Northwest.
Northwestern University,
Evanston
IL  1992
Pacific Lutheran University, Tacoma WA  1989
ABYC
Certified Marine Electrical
ABYC
Certified Marine Corrosion